Description
Folder: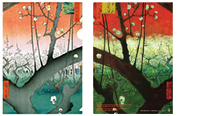 Front:   Plum Park in Kameido, 1857, Utagawa Hiroshige (1797-1858), Japan
Back: Japonaiserie: Flowering Plum Tree, 1887 (after Hiroshige), Vincent van Gogh (1853-1890), Netherlands.
In one of the most endearing and best known prints from One Hundred Famous Views of Edo, Hiroshige depicts a plum tree branch in a vertical format, novel for landscapes at the time. Thirty years later Vincent van Gogh reproduced the scene with flat shapes and a unique perspective in a work that speaks to the Japanese tradition of woodblock printmaking.
---
Note cards and sticky notes:
White Plum Blossoms in Moonlight, 1755, Itō Jakuchū (1716-1800), Japan
Eighteenth-century artist Itō Jakuchū brought a transcendent luminosity to Japanese bird and flower painting. In White Plum Blossoms in Moonlight, a tender depiction of a venerable tree, his ability to refine, compose and narrate helps elevate the natural world to fine art.